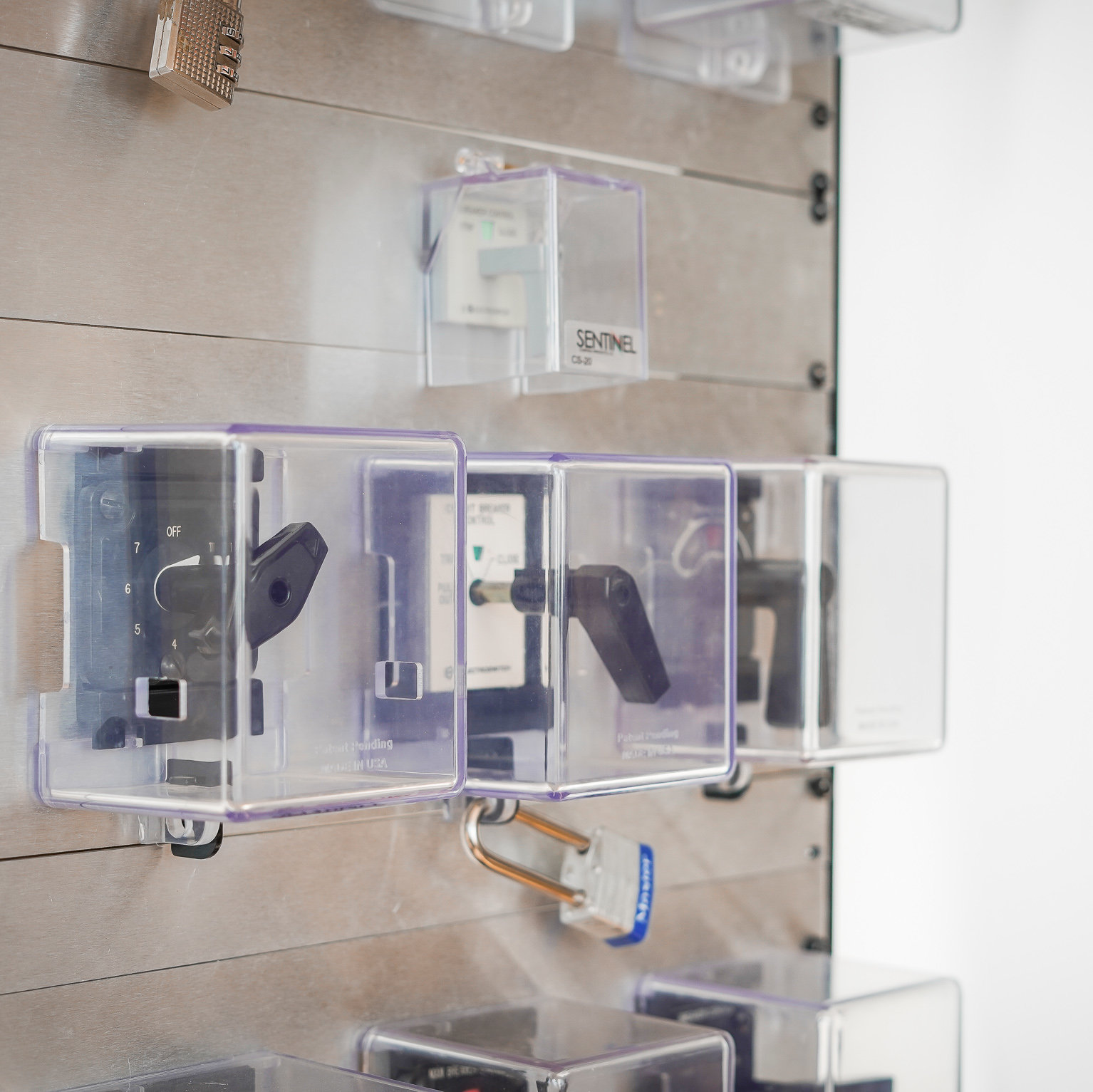 Our Circuit Breaker Lockout Device Keeps You Covered
Improve your Safety and Security procedures by using our rotary switch safety cover and circuit breaker lockout device to protect, lock out and tag out panel-mounted rotary control switches. You're in control with the Sentinel CS-1.
Solve Industrial Safety Concerns with the Sentinel CS-1
Durability and versatility are at the forefront with the Sentinel CS-1, our premier control switch cover, which also functions as part of a circuit breaker lockout and tagout procedure.  The CS-1 is made for industrial electrical applications such as power plants, substations, factories and industrial sites where rotary control switches such as those made by Electroswitch, ITI, Shallco, and GE are found.
If you're tired of being stressed out by poorly improvised safety devices, you'll want to learn how the Sentinel CS-1 can dramatically improve the safety in your facility.
How Our Safety Cover and Lockout Device Helps Electrical Professionals to Improve Safety Procedures and Alleviate Stress.
When we set out to solve our own electrical safety concerns, we knew we'd have to create something that would be easy to install, adaptable to different applications, and wouldn't get in the way.  Our control switch cover, the CS-1, may look just like a piece of high impact polycarbonate, but to us, it's a piece of art!
 The CS-1 Provides 3 main functions:
Guards Against Accidental Operation
Acts as a Lockout/Tagout Device
Protects Against Unauthorized Use
We managed to achieve all of this with a control switch cover that is easy to install, easy to remove, and doesn't block the technician's view of the control switch.
Features of Our Control Switch Cover You'll Love
Clear ABS Construction
The CS-1 is made from high-impact clear ABS. This allows for 180-degree viewing of the control switch position and status LEDs.
Easy to Install
The CS-1 can be easily installed without disturbing your facility! In fact, your employees will not have to remove the switches from the control panel or disturb the switch wiring, and there is absolutely no drilling involved in the installation process. See our installation page for a detailed description of how to properly install the CS-1.
Unique Locking Tab
The CS-1's locking tab accepts multi-lock hasps or single padlocks. When you install the CS-1 over the switch, you will need to push the locking tab upward in order to insert a lockout device.  This prevents the cover from being removed.
Maximum Compatibility
We built the CS-1 with compatibility in mind. Our control switch cover is compatible with several industry standard control switches, such as those from Electroswitch, GE, ITI, and Shallco. See the full list of compatible switches below. 
Custom Control Switch Safety Covers Available
If the control switch found in your facility is not on our list of compatible control switches, rest assured that we can create a custom control switch safety cover for you, usually within a short  turnaround time.
UL Listed
The CS-1 is a "UL" recognized component and can be installed by "UL 508A" panel shops.

The Sentinel CS-1 Complete Kit
The Sentinel CS-1 kit comes with everything you'll need to use the CS-1 as a control switch cover and circuit breaker lockout tagout device.  All you'll need to bring is a flat-head screwdriver!
The Sentinel CS-1 is compatible with the following products:
| | | | |
| --- | --- | --- | --- |
| # | Brand | Series | Description |
| 1 | Electroswitch | 24 | Manually Operated Switches (including pull to lock) |
| 2 | Electroswitch | 74 | Manually Operated Switch (with spring return and pull-to-lock) |
| 3 | Electroswitch | 78 | Lock Out Relay (manual and electric reset) |
| 4 | Electroswitch | 88 | Control Switch Relay (including turn-to-latch) |
| 5 | Electroswitch | 92* | Locking Switch Relay |
| 6 | Electroswitch | 94 | Selector Switch Relay |
| 7 | GE/ITI | 95 | Control Switches |
| 8 | Shallco | 26 | Control Switch and Series-76 Lock Out Relay |
| 9 | General Electric | SB-1 | Breaker Control and Transfer Switches |
*The CS-1 may not fit all Electroswitch Series 92 switches.  Please contact us before ordering.
The Sentinel CS-1 Kit Comes With:
Main ABS Switch Cover – made of 3/16" high impact clear ABS
Two Piece Adapter Base

Top Switch Lock
Bottom Switch Lock
Extra mounting screws (longer than originals) for installation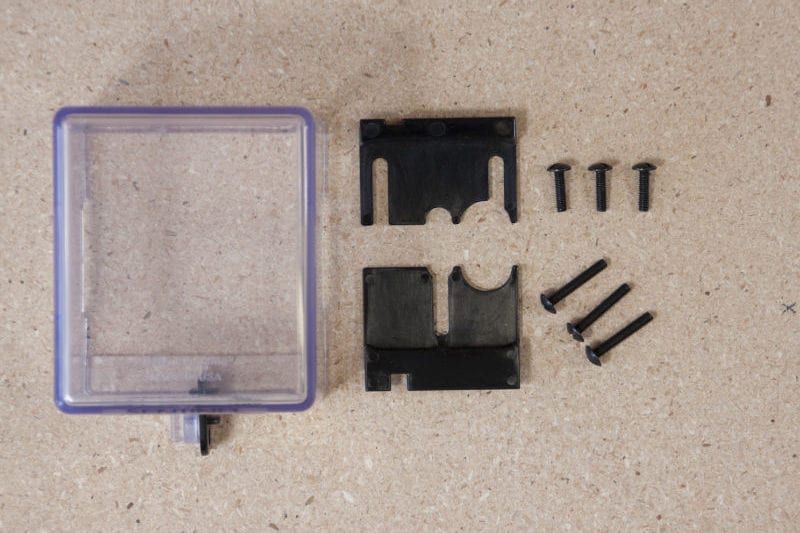 We cover our products with a one-year warranty from the date of purchase. Our warranty covers repairs due to defective products free of charge; however, our warranty does not cover parts or products damaged from abuse or improper use.  
Sentinel CS-1 Purchase Options
Improve and Streamline Your Safety Procedures with the Sentinel CS-1.
Ready to experience safer facilities and greater peace of mind when working around your relay panels and switchgear? Get your hands on the CS-1 now so you can keep hands off your control switches!  Our Staff will help you double-check compatibility, see if you are eligible for quantity discounts, and walk you through every step of the ordering process.
Ready to purchase the Sentinel CS-1 in quanitities under 5? Just click the "Buy Now" button below; you can choose your shipping method and adjust the quantity settings in the shopping cart.