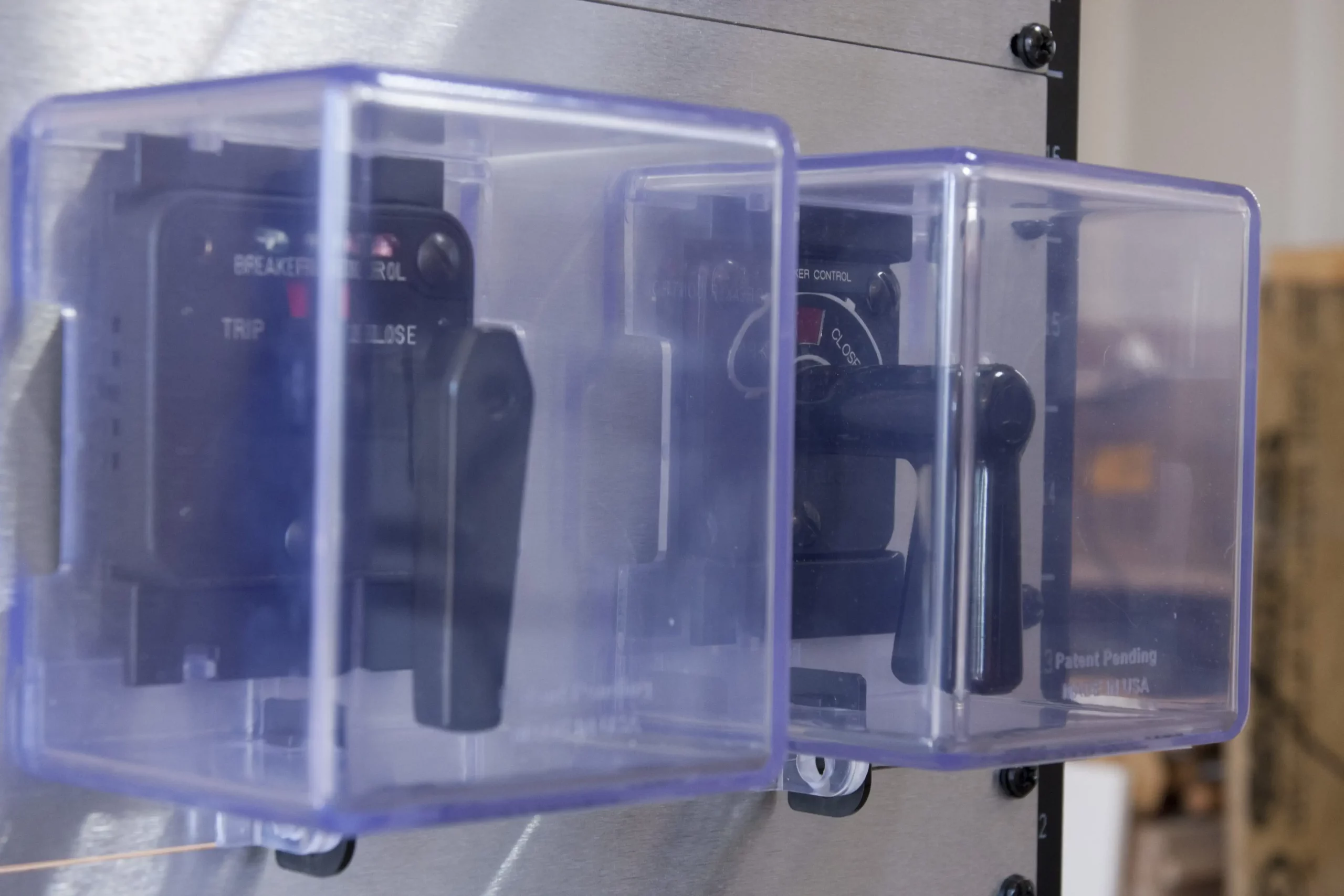 Lockout. Tagout. Protect.
THE ONLY ROTARY CONTROL SWITCH SAFETY COVER YOU'LL EVER NEED
When you install our rotary control switch safety covers, you're getting more than a protective mechanism against accidental operation. The Sentinel CS-1 is a complete solution for industrial circuit breaker lockout, tagout, and protection.
You're in Control with the CS-1
Acts as a Lockout Tagout Device
Complete Circuit Breaker Safety Solution for Rotary Control Switches
Sentinel Control Products produces the only rotary control switch cover that provides a complete solution for personnel working in power plants, substations, factories, or industrial sites. Our product not only protects rotary control switches from accidental operation, it also provides a lockout and tagout solution, preventing unauthorized use.  No other product on the market fulfills all of these functions.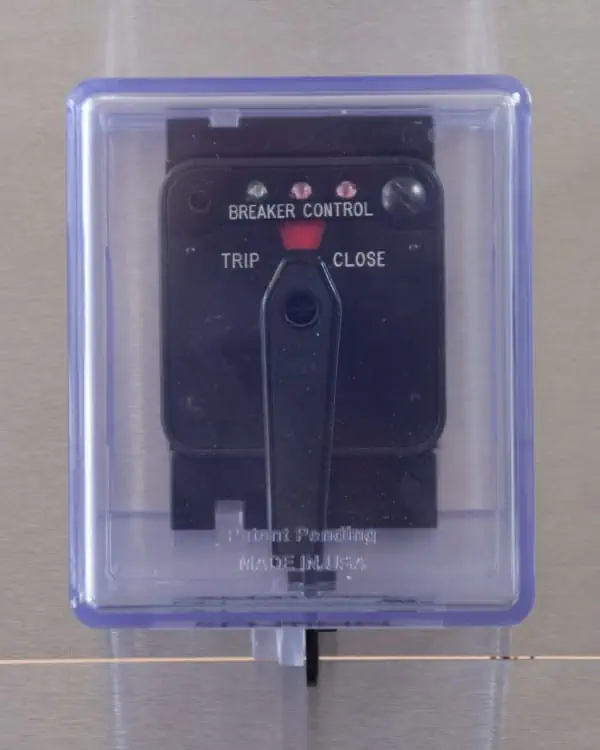 Breaker Control Switch (BCS)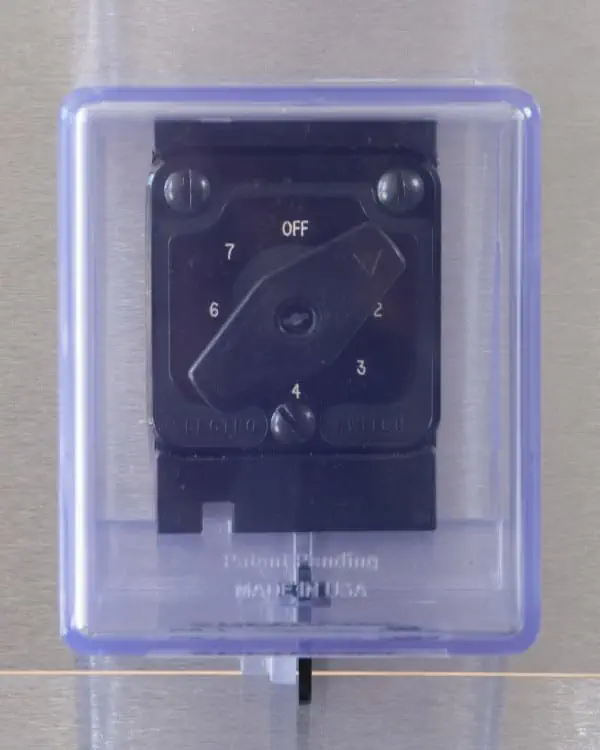 Setting Selector Switch (SSS)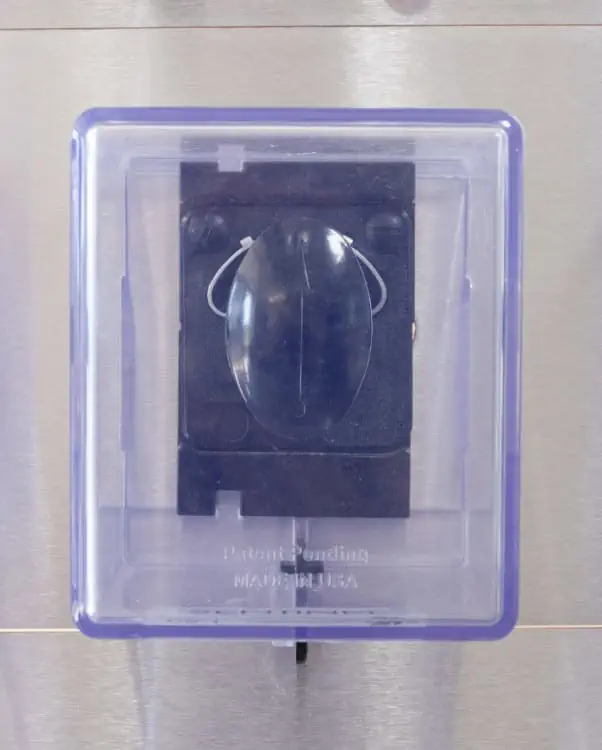 Don't Settle for Poorly Improvised Switch Covers
No one wants to explain to the plant manager why the control switch in their substation, power plant, or factory was operated by accident.  Neither does anyone working in an industrial electrical facility love worrying about how someone might bump into a control switch or catch their toolbelt on a control switch handle.
In the past, solutions to this problem have been half-baked and have come with big downsides.  Drawing lines on the plant floor can be bypassed, uninstalling pistol grip handles means they might be hard to find in the event of a real emergency, and cardboard taped over a rotary control switch is just downright unprofessional.
Furthermore, other commercial solutions tend to lock you into a feature that you may not really want.  Our rotary switch covers were designed by a systems technical specialist to be feature-agnostic yet simple and functional at the same time.
Want to use the CS-1 as a lockout-tagout device?
You can use the CS-1 for lockout-tagout purposes, but you don't have to.
Want your circuit breaker switch guard to be separate from the pistol grip handle itself?
You can achieve this with our circuit breaker switch guard, the CS-1.
Want to be able to easily see the position of your pistol grip and Indicating lights while your switch guard is in use?
You get 180 degree visibility of the switch position and status of the LEDs with the CS-1.
Want your circuit breaker rotary switch guard to prevent against unauthorized operation as well as accidental operation?
Maximum Compatibility
Our rotary switch covers are compatible with Electroswitch, Shallco, General Electric, and GE/ITI switches – that's 9 switches,  if we're counting correctly.  Read the specifics about compatibility on our product page.
UL Listed
Our products are UL recognized components and can be installed by switchboard and relay panel manufacturers.  Fantastic for UL 508a shops! UL File #480471.

Custom Control Switch Covers
Do you need a special application?  No problem, Sentinel can also construct a custom lockout switch cover.
One-Year Warranty
We offer a one year warranty on all components included in the CS-1.  For more details, please visit our product page. It's worth noting that we rarely, if ever, have a Sentinel CS-1 come back due to workmanship or durability.
Series-20 Miniature Control Switch Cover is Now Available
Sentinel has you covered even for miniature control switches.  Our latest product offering, the Sentinel CS-20, is specifically designed to cover Electroswitch Series-20 miniature control switches.
Let's Get You Covered!
Ready to experience safer facilities and greater peace of mind when working around your relay panels and switchgear? Get your hands on the CS-1 now so you can keep hands off your control switches!  Our friendly sales staff will help you double-check compatibility, see if you are eligible for quantity discounts, and walk you through every step of the ordering process.
Ready to purchase the Sentinel CS-1 in quanitities under 5? Just click the "Buy Now" button below; you can choose your shipping method and adjust the quantity settings in the shopping cart.